We're an affiliate
We hope you love the products we recommend! We may collect a share of sales or other compensation from the links on this page at no extra cost for you. Learn more.
Today we have the Milin air fryer review. Milin Air Fryer is a great budget option in the air fryer product range. We have reviewed many air fryers at Intoptrend, so far with the premium range air fryers such as Yedi Air Fryer and Milin are at a competing level.
Let's get to know a bit about air fryers. Air fryers have become an essential item for the kitchen by the day; as the demand for home cookers is rising amidst the precooked meals and to charter the perfect cooking combination for your food with less fat.
The convenience of Air fryer has become more and demanding as it has gone through various modifications to deliver a variety of food to be cooked. From the daily dose of French fries to the regular meat it is now a must-have appliance for the kitchen. With the added advantage of reduced-fat, Air Fryers will dominate the market when it comes to household home cookers.
Milin Air Fryer XL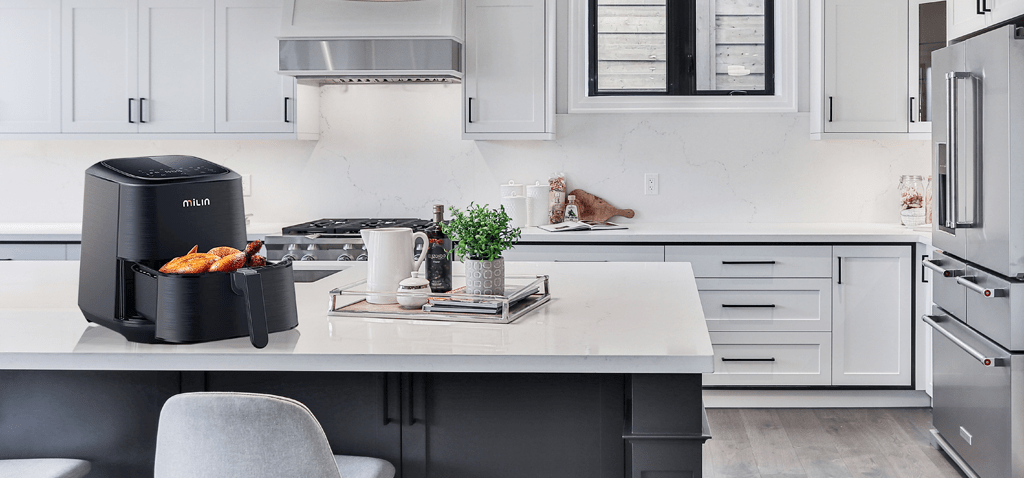 Let's dive down deep into this home cooker and make sure whether it's the right choice. Shall we?
One of the specially designed features of the Milin air fryer is the compact size it offers. You rarely see air fryers that offer compact sizes and yet are able to provide good cooking results and at the same time build up a reputation in doing so. The Milin air fryer also comes with 100 recipes that are capable of giving you some splendid dishes. This also is a major advancement in the competitive market where you see many popular products offer low-grade recipes that are not even understood in clear terms.
It is a product of the Milin company which is also the home of many homes and kitchen appliances. This is a rather new product for its product lineup yet does its job well.
Product Specifications
Milin Air fryer comes with a voltage of (AC 120V, 60Hz), with 1700W power. It is also 4.92″ x 12.36″ x 12.83″ in size and carries 15.53lb in weight. Temperature range: 180°F-400°F.
The watt charge of 1700W shows that the appliance produces some quality power. Also, the air fryer manages to control the heat emission outside at a good rate. The air fryer itself gives a good serving portion for a family; this is truly rare for compact air fryers like Milin to produce good power coincided with good cooking results while serving for a whole family.
Design and Controls
The Air Fryer comes with a touch screen on top of the appliance with the power button, temperature, fan, and timer with the display in the middle. I found the buttons to be rather tight at first but once you get used to it sinks in. It includes seven cooks presets with the pre-adjusted temperatures specifications and the freedom to adjust. The spacious compartment is the highlight of the Milin Air Fryer XL which allows you to easily slip in a 6lbs whole chicken inside. The front handle allows you to easily open the compartment.
Features
If you are a person who is on the hunt for the exact performance from popular brands to match it with a cheaper appliance Milin air fryer is the one to go with. One thing to look for is the instructions that Milin provides which are clear and crystal and easily understood. One other feature is the wide range of dishes that this air fryer provides with quick and efficient results the air fryer seems to cook a whole chicken, French fries, chicken wings, breasts, nuggets, etc. Even air fryers which are listed in the top ten tend to provide varied results in cooking while the Milin seems to manage that job well.
Although Milin air fryer is much cheaper than most of its competitors the air fryer has one of the impressive displays, we have seen so far including 7 cooking pre-sets named Fish, French Fries, Shrimp, Pizza, Cake, Drumstick, and Steak. This is easy and convenient for any user and much more efficient as the pre-sets are programmed according to the recipe.
| | |
| --- | --- |
| Pros | Cons |
| Worth more than the value | The air fryer basket is not food turn friendly |
| Efficient cooking pre-sets | You may receive faulty appliances rarely |
| 100 recipe cookbook | |
| Family size air fryer | |
| Auto- Shutdown | |
It provides unique airflow inside the fryer allowing it to cook efficiently and crispy while draining out the excess oil. Other features include the automatic shutoff which powers off the home cooker if you accidentally left it on. In addition, it pauses cooking when the basket is removed from the appliances while frying which may come in handy if you are in need of a sneak peek.
Milin air fryer promises at least 85-95% less fat on the cooking and is a healthy cooking appliance that you can truly trust. The basket is non-sticky and makes it effortless to clean, but if the basket would have been more flexible more appreciation will flood in this post as it was a little bit hard to turn food over. They are instances that the Milin may malfunction rarely, and this can happen with almost every product. Therefore, it is important to get in touch with your delivery partner to amend the issue and hopefully, you can get a better product.
You will also receive a booklet consisting of 100 healthy air fryer recipes.
The non-stick surface helps when cooking and letting food off the basket, but might be a little hassle while cleaning, though it claims to be easy. We found the noise much louder when using the Milin Air Fryer but might also be the case with the air fryers, yet it is constantly nagging your kitchen vibe.
Certifications
FCC/CP65/FDA/ISTA/ETL
Overall Impression
This air fryer is by far an excellent cooking result provider and this is one of the truly magical factors that being cheap and yet making it possible to deliver great cooking while making it accessible to the whole family.
A handy Air Fryer and the perfect partner if you have 4-5 people on board in your family as it has the edge over the spacious compartment, noise is much of a factor but seems the fact with all the Air Fryers nowadays. As mentioned, preferred for you if you find yourself cooking for more than two people regularly.