We're an affiliate
We hope you love the products we recommend! We may collect a share of sales or other compensation from the links on this page at no extra cost for you. Learn more.
Yedi air fryer is the best air fryer oven for rotisserie chicken. Also is enough to hold a 5 pound chicken inside.
Overall Cooking Performance

User Ratings (

1

Votes)
Yedi air fryer series is popular among the crowd as one of the best budget options in the product lineup. This is one of the main review appliances, you can find on our website along with a list of great air fryers. Adding to that series we have the Yedi total package air fryer oven XL.
Yedi air fryer oven XL is one of the rare all-in-one ovens that make your cooking life a little easier. Yedi air fryers are good in quality and provide great cooking results.
Design – Look and Feel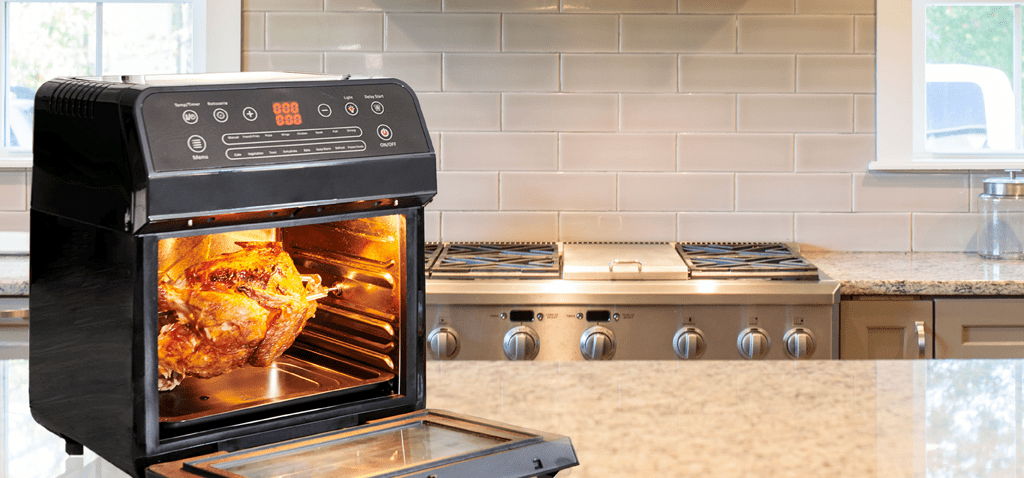 Yedi air fryer oven XL has a rectangular design (vertically) and is much less in length than a typical oven. But the look itself will not impress you at first as it may look like an appliance that has been there for a while. It has a drop-down oven door with interior shelves and has a glossy black plastic exterior with a generic digital control panel.
The air fryer does not take much space and is not too tall to fit inside a cabinet. The near-perfect dimensions are seen in the Yedi air fryer oven XL when it comes to convenient use.
Included items and accessories
A cooking rack,
A nonstick drip pans
Two silicone mitts.
A rotisserie rod.
Two different cages.
A contraption to hold skewers that rotate on the rod, and a set of 10 skewers.
The recipe booklet is not as useful as you might think it would be. Contains most of the vegan options with Keto Recipes, and Dessert.
Special Features Yedi Air Fryer Oven
Let's take a look at the positives of the Yedi air fryer oven. The best function that you can find by far is the rotisserie chicken option. Yedi air fryer oven does a great job in preparing a 3-pound chicken at best. A juicy and perfectly done chicken with a soft crust on top. However, you may struggle to fit the rotisserie chicken inside the Yedi air fryer oven given the lack of space you have to work with.
Though it recommends a 5-pound chicken what is best is to limit it to 3 pounds as may not find space inside the air fryer oven.
The air fryer seems to do a great job in defrosting and warm settings. You can find food defrosted to good quality and not at all cold and not halfway cooked either. It also does a fine job in heating up rather than the typical microwave that may take longer than expected at times.
With the Yedi air fryer oven, you may have to toss your food in between to get an even cook all around. Otherwise, it may end up cooking on top with the bottom still fresh, as it does not have a burner in the bottom. With all air fryers, you get great results with frozen foods, and like that the Yedi air fryer oven also provides great results with frozen food rather than the food made from scratch.
One of the other appliances that include an air fryer oven but does not seem well to perform is a rotisserie cage, You may want to spread food like french fries in the oven to get more crispy bites (you can use the mesh for this). The toast function on the air fryer oven typically bakes the food. Baking bread or any other food may turn up unevenly in the Yedi air fryer oven as the options are limited and all you can do is to adjust the heat.
Usability and Convenience
Press the On/Off button to switch on the panel, select Menu. The Menu brings you to a bar that has 16 function pads. Changing the temperature is combined with time in the button pad, therefore you first need to press the button and select one from both before pressing the higher and lower arrows for each, then you need to press On/off again to give the command for cooking.
Like mentioned you are getting a generic digital control and it can feel a bit irritating to go through this every single time. Mind that when we mentioned turning your food in between to attain even cooking, that doesn't necessarily mean that the air fryer oven gives you a prompt for this. You must set the timer to remind yourself of this and carry on with the process. The fan in the appliance is barely audible. Also, you have a light to check on your food.
Cleaning Yedi Air Fryer Oven
Cleaning the appliance is where it gets messy for most of the users. The manufacturer of the Yedi air fryer oven recommends you hand wash all the parts of the air fryer. Most parts are hard to get your fingers around and may get even messier if you get delayed in cleaning the appliance after cooking. All the accessories of the air fryer oven may be hard to keep track of or can be easily lost. Make sure you have a bag to get all the parts stashed.
Summary
The Yedi air fryer oven is a good air fryer that may always come in handy. Having said that some of the food you may cook in it may turn out better if you used the traditional pan with hot oil – chicken nuggets, french fries, etc. The Yedi does a good job in roasting vegetables and also heating frozen food -but it will never replace your toaster or the traditional oven.
The best feature is the rotisserie chicken, which the Yedi air fryer does a perfect job, however, it is also limited to a small size. Yedi air fryer oven is made for the hard work, not for its looks, therefore if you are on the lookout for a more premium air fryer that is well rated, find our list of best air fryers.