We're an affiliate
We hope you love the products we recommend! We may collect a share of sales or other compensation from the links on this page at no extra cost for you. Learn more.
We have a list of the top air fryers that will do a great job in your kitchen. Our best air fryer UK 2023 list compromises air fryers from various capacities that match your cooking needs. This will feature the smaller capacity air fryers to the larger capacity air fryers that will suit your preference when purchasing.
COSORI Air Fryer 4.7L XL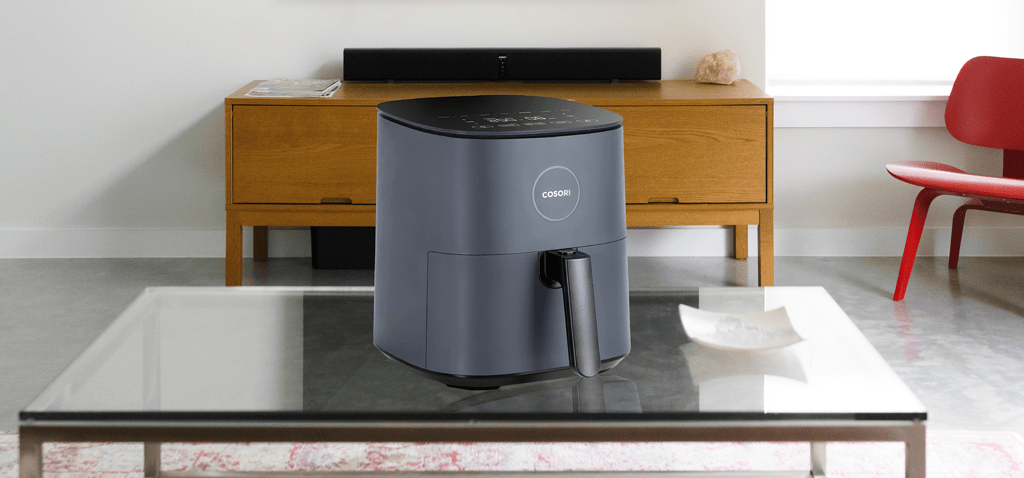 With a unique 'unibody' design giving a smoother finish, the design of the air fryer is one to adore. The air fryer has non-slip padding which protects any delicate surface in your kitchen without scratches. Different from the normal approach Cosori features its mostly larger touch interface on top of the air fryer. Since the air fryer itself is smaller, this is much more convenient.
Display-wise, the backlit of each button lights up when only touched while others are dark. Till your hand gets a good run in it, you'll probably end up pressing wrong combinations a lot. The air fryer carries a wide range of temperatures of 70-230 C. The air fryer comes with 7 cooking presets such as chicken, fries, frozen, steak, seafood, veggies, and bacon, including the pre-heat, keep warm, and shake settings.
The shake button is there combined with a reminder to let you tumble your fries to give it an even finish. The 4.7 Litre capacity is mostly enough for a family of 3-4 at maximum. There is plenty of room for 3lb chicken in the basket if you are going for it.
As with all air fryers we recommend using liners to minimize the damage done to the non-stick materials. The air fryer is dishwasher safe and easy to clean as always with Cosori. The recipe book is well-versed with some recipes that are truly useful and deliver a meal for the win.
Ninja AF160UK Air Fryer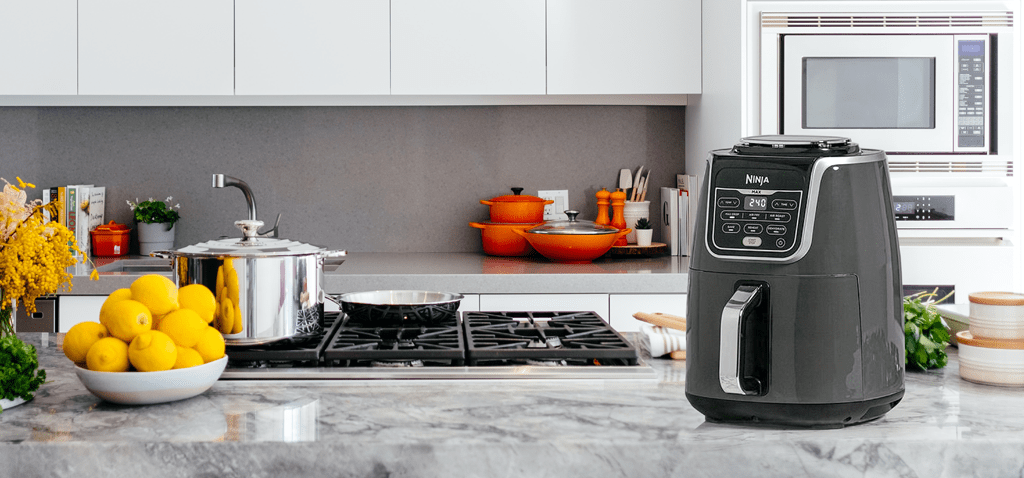 An efficient air fryer that is known to deliver results. The Ninja AF160UK air fryer offers a 5.2 Litre basket with 3 main functions max crisp, air fry, roast which it is popular for, and 3 functions bake, reheat and dehydrate which gives you an extra advantage.
The air fryer is known to deliver crisper results, the french fries we prepare every day with the Ninja AF160UK air fryer are impressive and the roast function works well with chicken wings and breasts. Baking did not do well at first but once you figure out the time and the necessary temperature unique to the air fryer it turned out perfect. This air fryer is designed with polymer and carries a weight of around 7kg so it might suit if you have a fixed place at your counter for this air fryer.
Cleaning is much more straightforward with the air fryer. The two ceramic-coated, non-stick trays are dishwasher safe with easy-to-clean surfaces. The Ninja AF160UK will never disappoint and is truly valuable for what you pay.
COSORI Air Fryer XXL – 5.5L
With almost 11 cooking presets, you can easily prepare the desired cooking output with one touch. You also get the shake reminder to give your fries and food a spin before re-entering. The quantity of 5.5 L is enough for a family of four. The basket holds up to 2500g of chicken when tested. The keep-warm button ensures that every ingredient retains its taste with good heat.
Cosori air fryer XXL also comes with a Wi-fi enabled counterpart. You can now control your cooking via the app and also schedule, adjust, and monitor all cooking. You can now schedule up to 4 hours of cooking time, and the ever-reliant 100 recipes that you get with the Cososri air fryer are now available in the VSync app. Also, the cooking history is saved. Additionally, you can save photos of every meal you prepare. The air fryer basket is dishwasher-safe and easy to clean.
Instant Pot 4-in-1 Air Fryer- 5.7L
We are reviewing the Instant Pot Vortex, one of the most simple air fryers in the long list of air fryers that the Instant Pot features. The Instant Pot 4-in1 air fryer has a 5.7L basket, which is fairly round and may not accompany every ingredient equally but this is a rare occurrence. Capacity is enough for well over a family size of four.
The quick 4-in-1 feature has 4 pre-set cooking programs, air fry, bake, roast, and reheat. The features are known to deliver a great cooking output. The dial-in center can be adjusted to choose the temperature and time simultaneously. Interface wise the functions are pretty straightforward.
The temperature can be adjusted up to 205 C with a cooking duration of one hour. The air fryer design is quite simple and sleeky. The air fryer components are easy to clean and dishwasher safe.
Ninja Air Fryer [AF100UK] – 3.8L
The Ninja AF100UK design of the air fryer is much more elegant and sleeky with its stainless steel glossy finish. The air fryer has a front digital display with four presets air fry, roast, reheat, and dehydrate. You can get two separate buttons for the temperature and the time and the display will help with the adjustment.
The cooking results of the air fryer are what it is famous for. The air fryer can deliver a crispy and perfect batch of french fries and is known for it. The air fryer also does wonders with meat and can handle large chunks of meat with no problem at all. As most of the competitors offer Teflon pans, the Ninja offers a ceramic-coated pan, which will not peel away after some time and promotes healthy eating. Make sure to do the pre-heating process to take the plastic smell out of the way.
The Ninja AF100 air fryer does a great job of delivering crispy and juicy meat, potato wedges, fries, chicken wings, pork ribs, lamb, and many more. The build quality is great and is recommended.
Ninja AF300UK Air Fryer | Best Air Fryer 2022 UK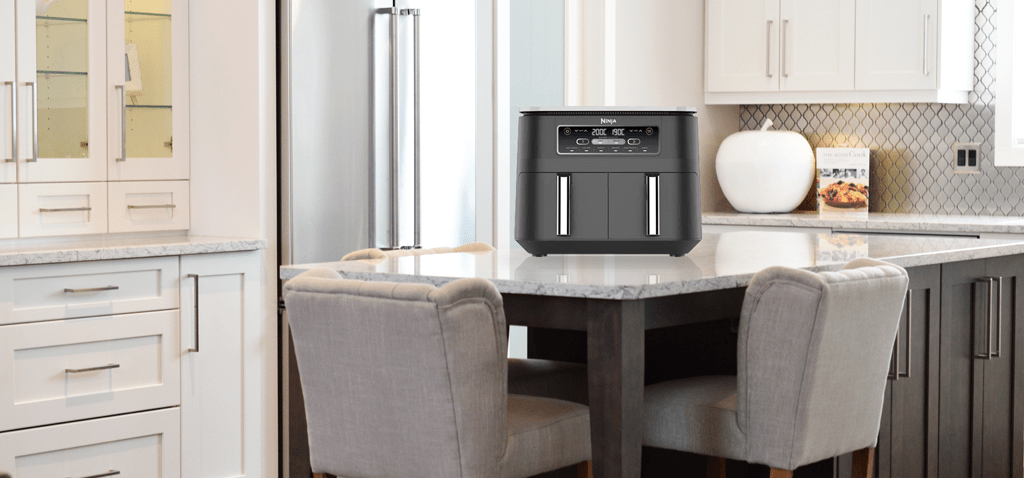 With a 7.6L total capacity, the Ninja AF300UK air fryer is an innovative air fryer that lets you prepare two meals with different settings at the same time called 'The Dual Zone Technology'. The two 3.8L baskets are separated into two compartments with two cyclonic fans each. The air fryer also has a 'Match' button that lets you utilize the full capacity of 7.6L. This air fryer avoids cooking in batches at any given time.
Featuring a unique and stylish design for any countertop the Ninja AF300UK carries 6 cooking functions max crisp, air fry, roast, reheat, dehydrate and bake. We found the Max Crisp setting delightful when we tested as it basically fries at a higher temperature and uses the max crisp plates which are there to get an all-around crisp. The two removable trays are dishwasher-safe and easy to clean. The Ninja AF300UK will provide you with crispier french fries, and juicy and tender meat cooking. An air fryer that is highly rated and trending in both US and UK.
Tefal ActiFry Genius XL [YV970840] Air Fryer
The Genius XL 2-in-1 has a dual-cooking compartment technology that is unique. This implies there are two cooking trays, each of which may be used to prepare two different sorts of food. For items like chips or stir-fries, the bottom container features the smart 360-degree stirring paddle. Meanwhile, the detachable upper tray (which you don't have to use if you don't want to) is for things like spring rolls, bread, and burgers that don't require stirring.
Although Tefal says that the Genius XL 2-in-1 can cook two types of food at the same time, this isn't quite true. Instead, it allows you to program both trays at the same time, then prompts you to insert the second only after the first has done cooking. While the top tray cooks, the bottom tray stays warm, ensuring that all halves of your meal are ready to eat at the same time.
The Genius XL 2-in-1 air fryer is a large and bulky appliance. you need a lot of counter space to place this air fryer alone. The Tefal Genius XL is known for its cooking output, it will simply deliver a batch of fries, potato wedges, and chicken wings easily and comes to the temperature very quickly.
Tower T17039 Vortx Digital Air Fryer Oven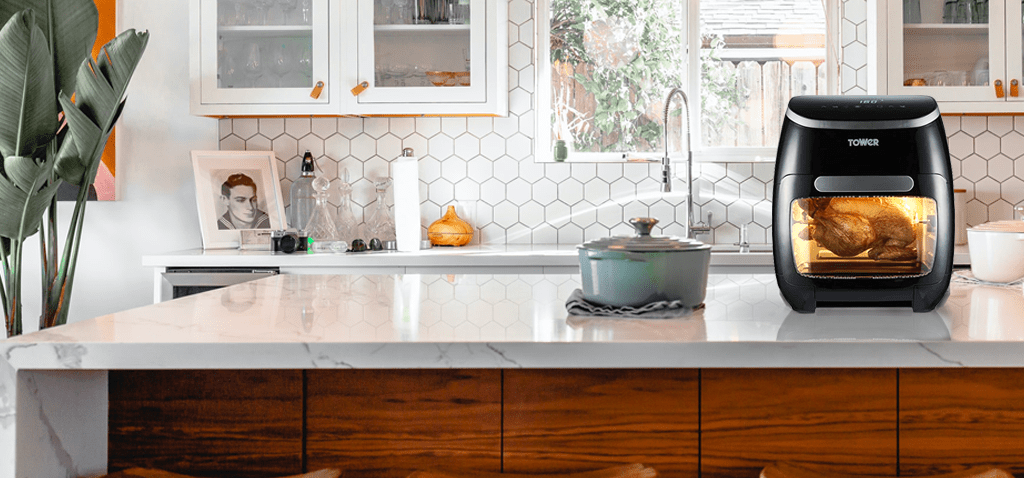 The Tower T17039 Vortx Digital Air Fryer is a large-capacity air fryer offering you an 11L capacity that is much more suitable for a family or a group. The air fryer is known for its rotisserie chicken and if you are a fan of rotisserie chicken, then the Tower Vortx air fryer is the option for you. It contains 5 main functions air fry, rotisserie, dehydrate, bake, and roast.
The inclusion of three-wire racks, a rotisserie fork, a handle, and a drip tray means that you have enough space and accessories too. The Tower Vortx is an incredibly easy-to-use and clean air fryer, all parts are dishwasher safe.
Rotisserie chicken is indeed an option to adore in the Tower as the meat that turned out was juicy and tender. Don't use the top shelf if your meal requires more time as heat is being generated from the top. You can use it for a nice crisp. The Tower Vortx is a much more convenient air fryer than most of its competitors provided with the capacity and the cooking option for rotisserie.
Our verdict on the picks
All the air fryers are doing great in terms of cooking results, mostly the capacity size is what differs and air fryers like Ninja and Tefal have taken things to another step, making them more prominent than the rest, while Cosori leads with functionality and convenience.
Features matter little when it comes to deciding the air fryer you need. The most important purchasing metrics will be
The capacity comes with,
The ease of operation,
The result of cooking,
Type of cooking with the air fryer.
If you prepare rotisserie chicken once or twice a month maybe Tower Vortx will fit perfectly your needs. Choosing the best air fryer 2022 UK list compromise of these suggestions and these air fryers are known to deliver through consumer experience and the features included.