We listed the best skateboards on Amazon that you can buy right now, this list is compromised of two categories of buyers, the first category will be the buyers who browse the store to generally shop for a skateboard to get started or to buy for someone who is a beginner and aim to make skateboarding a long-term plan. The list of these best skateboards on Amazon is chosen at a cheaper price level than the other category.
The next category for the best skateboards will be the more experienced or the mid-level skaters who are looking to elevate their skills and performance in skateboarding. These skateboards will compromise expensive pricing and more renowned brands around the world built for professional skaters.
The list is compromised with the best skateboards on Amazon that you can find by browsing. The skateboards are not strictly for beginners and professional's choices can be varied. We listed the below to the objective that each of these categories
Why Skateboarding?
Before browsing the list of skateboarding, here are some reasons why you may want to start skateboarding.
For each rider, it has a different value, ranging from the arts to exercise and mental recovery. When someone becomes a professional skateboarder, their enthusiasm for the sport skyrockets. Skateboarding stands out from other sports because of its practicality and convenience. You don't need any ground or surface to practice.
You are not limited in any way by the activity, whether you are indoors or outside, in large or tiny spaces. If you're still learning, you can practice in your home's basement. You may get out on the streets and utilize it as a form of transportation once you've finished the learning program.
Best Skateboards on Amazon for General Picks
Powell Golden Dragon Flying Dragon Complete Skateboards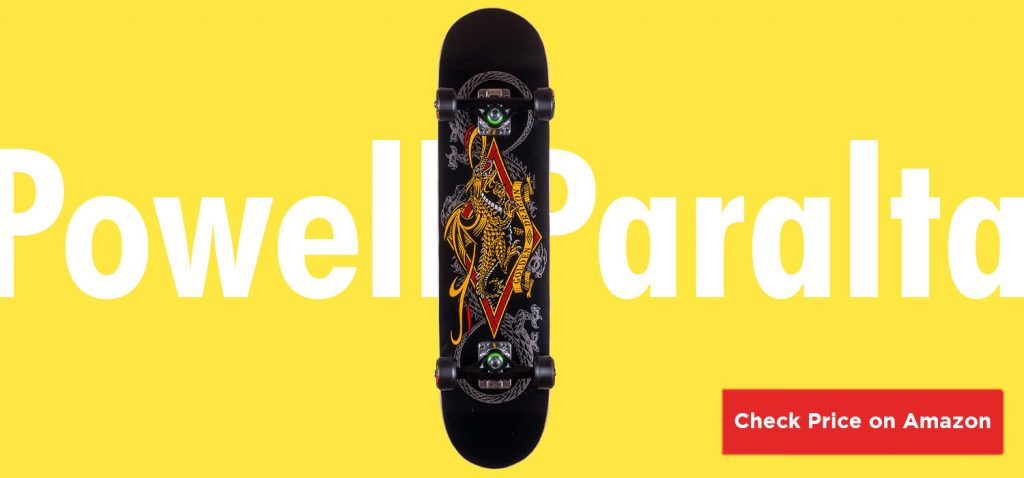 Powell Peralta skateboards are known for their skateboard manufacturing for over 35 years. This skateboard brand is on top of the manufacturing list with its insane graphic styles and excellent material on the deck. All skateboards need upgrades over time and especially the complete skateboards do need. Powell Peralta skateboards rarely need an upgrade but at times bushings may be a victim.
Deck Specifics
The maple deck of the skateboard is by far the best quality deck you will get on this price range, with a length of 31.38 inches an extended width of 7.5 inches, you get enough space to dwell on the boards with safety in stepping. A K-12 concave-shaped deck is just 4.4 pounds included with all the wheels and trucks. The skateboard deck also features some insane graphic styles of dragons which add a little splendor to its performance.
Wheels and the trucks
Attached to deck are the super-light yet durable 59x45mm wheels with 75A durometer hardness wheels and trucks. Translucent urethane wheels with a high rebound. The ideal height, breadth, and hardness for a comfortable ride. Hangar and baseplate are made of high-quality aluminum. Axle and kingpin are made of hardened steel. Turning is made easier with the use of soft bushings. The baseplate has been slimmed down, which means it is lighter.
Overall specifics
A great skateboard which gives you a combination of a branded and a general skateboard yet delivers in quality. The grip of the skateboard is next level. The wheels may be louder when in rough surface and may need a replacement if you are hoping to roll and cruise on almost every surface.
Best Skateboards on Amazon: Minority 32-inch Maple Skateboard
The Minority skateboard is suited for every user, rookie or experienced, with a support weight of 220 pounds.
Deck Specifics
The 7ply tough maple cold pressed to the deck of the minority 32-inch maple skateboard. A medium concave shape makes it simple and stable to do smooth feats. The 5-inch trucks are made of real aluminium alloy and are extremely robust in any environment.
Wheels and the trucks
The 78A PU bushing provides excellent shock absorption and is secured by a carbon steel kingpin. Minority is a major challenger in the game since speed is an aspect of trickery. Chrome steel forged ABEC-9 precise bearings operate with 52mm 102A PU wheels.
If you're not new to this and don't mind spending a little more, Minority is the smoothest board you can purchase in terms of performance. It comes with a variety of designs to match your personal taste.
Overall Specifics
The minority skateboards are great in terms of use, and that is why they are much preferred and also the brand names gives out a different definition for the skateboarding enthusiast, furthermore the graphics on the minority skateboards are cool and with a limited yet enough of a range to choose from. This skateboard can withstand almost every trick and surface. Recommend as these is a beginner level skateboards tricks may lead to some item damages.
MINORITY Downhill Maple Longboard 40-inch Drop Deck
From the Minority Maple to the Minority Downhill Maple which is one of the best skateboards that you may find in Amazon for a beginner. The Minority downhill skateboard is unique in design with a drop deck.
Deck Specifics
The deck is made entirely of maple wood. The classic downhill drop concept is used to manufacture the 40-inch longboard. Its low-gravity design makes it excellent for any high-speed ride. The combination of a super sturdy 8-ply cold-pressed hard rock maple deck, a 37-inch wheelbase, and a roomy 10-inch wide deck resulted in a sturdy downhill platform.
Wheels and the trucks
The durable 70x51mm wheels which are little, large in size includes a durometer hardness of 78A and the material being polyurethane, equipped with ABEC9 precision bearings. The reverse kingpin trucks have adjustability of 45 degrees which aides in great manoeuvrability.
Overall Specifics
The skateboard is recommended if you're a re a beginner and is looking for a drop concept skateboard. However, some problems related to wheels and trucks have been reported but this seemed to be the case for few orders and manufacturers defects.
Best Skateboards on Amazon for Experienced
Alien Workshop – Complete Skateboards
Alien Workshop is a brand that has risen to the top of the brand rankings. If you're looking for a reliable skateboard for beginners who want to pursue professional skating, look no further. The Alien Factory has been in operation since 1990, producing thousands of incredible skateboards. Alien Workshop skateboards, based in Dayton, Ohio, are known for their quality and dependability.
Alien Workshop's full skateboard deck is made of 7-ply Canadian hard-rock maple with dimensions of 7.75 x 31.625 inches. Trucks with 85A bushings, ABEC7 bearings, and 53mm 99A wheels from Alien Workshop. With a variety of visual possibilities, the Matrix Blue is the most prominent.
Blind Complete Skateboards
The deck, grip tape, trucks, bearings, wheels, and other components are all assembled on this board. Straight out from the box Blind skateboards are good to go, leaving the worries behind on assembly.
The wheels feature a 92A durometer and a 52-mm diameter, allowing you to glide and turn with minimum resistance. Furthermore, the durometer is mild enough to let you to skate smoothly over rough terrain. Also, the Tensor trucks will make navigating through turns much easier.
However the skateboard wheels does not seem to produce a lot of speed and at first may feel a little bit roughness around the edges.
Enjoi Complete Skateboards
The Enjoi Whitey Panda is a smaller or younger skateboard with a 7.75′′ x 31.2′′ deck and a 13.88′′ wheelbase. It's composed of 7-ply hard rock maple with strong water-based glue — DSM's renowned Resin 7 construction, which produces in decks that are stronger, more durable, and have consistent concave (single pressed decks).
On a white background, the bottom graphics show the classic Enjoi panda resting against the front trucks.
The Whitey is available in a variety of configurations, including this Amazon configuration with Core trucks, which are solid entry-level trucks, 52mm TGM wheels with 99A durometer (again, acceptable wheels for ordinary skating), and Amphetamine Abec-5 bearings. Instead of the Core, Tensor trucks are used in this arrangement.
Alternatively, for a more extreme skating style, this higher-end configuration comes with Independent trucks and Bones wheels (51mm 100A).
Note that the Enjoi Whitey Panda 6.75′′ x 28.5′′ (12′′ wheelbase) comes in a "micro" version with a soft top for children aged 5 and under.
Summary
These are some of the skateboard options that we would recommend for the beginners and the professionals to try out whether you are starting out or looking to change your board. Skateboarding is a relaxing hobby that each an every individual should try out. It helps to relax the mind and getting better at it will leave you wit some beautiful tricks up your sleeve.