Skateboarding is one of those events that you start at a young age and never seem to stop liking. Here we review the best skateboards for kids. Skateboarding has become a pro sport in most countries. This blog will help you to choose the best skateboards for kids in 2021 so that they are safe and agile to long last with the fun that comes with it.
Magneto Kids Skateboard
The traditional skateboard size may become too much for the kids so that this skateboard has accompanied that idea to make their product 27.5-inch-long, 7.75-inch-wide instead of the original with 31 inches long and 8 inches width.
These best skateboards for kids, entry enable your kid to train in a customized element of the board which initially gives confidence rather than handling a board oversized.
Deck Specifics
Because the deck is a little shorter than a regular skateboard, it's the ideal skateboard that allows ease of learning to skate. The short skateboard does also come in handy at times for the adults to perform tricks at ramps with the extra handling time.
With most of the best skateboards that are for kids and beginners comes with plastic decks, this deck is comprised of 7 plies of hard maple and features double kick-tails on both the front and rear of the board, as well as a shallow concave for enhanced comfort when skating. The quality grip tape makes it add traction even more with a perfect grip for the rider.
Wheels and the trucks
5″ gravity cast aluminum trucks with a steel axle for increased strength and durability are ready to ride right out of the box. The rider can turn and skate with ease and stability thanks to the SHR medium stiffness bushings. Wheels made of Polyurethane 52mm 95A SHR – Excellent Rebound Urethane wheels with super soft, high traction for a smooth and stable ride.
Overall specifics
A maximum load of 200 pounds is mentioned, but this fact depends on the actual use and the surface of that the skateboard is ridden in. Skateboard comes with three generic designs one with a check-board art, and the other with the brand name in shiny letters, and our personal favorite the video game design. Magneto skateboard is surely an option if you are looking to purchase a skateboard for budget, featuring in our best skateboards for kids reviews.
Meketec Skateboards Complete 22 Inch Mini Cruiser Retro Skateboard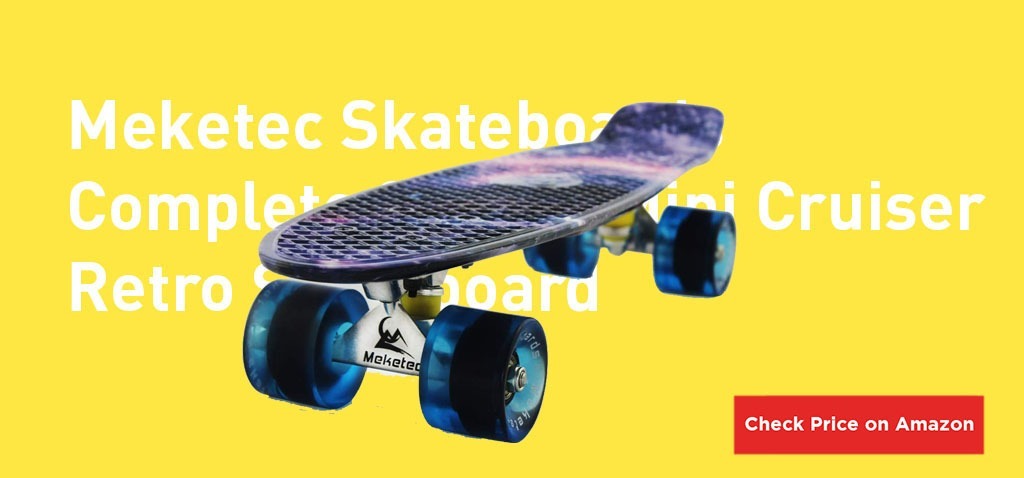 This skateboard is for the stylish kids out there with a hint of sassy. The skateboard comes with a wide range of colors and designs. Now, this may not be the long-lasting quality skateboard you think that it would be. But for the kids to get used to while being on skateboards that steals attention; this is the go-to skateboard for that matter.
Deck Specifics
The deck does not consist of the best features as this skateboard comes with a 22'' Long x 6" Wide Plastic Single Kick Board. The tendency to break when in rough use is high and this deck is the reason that this skateboard comes with all different colors and designs, so as mentioned you are not going for the quality here but the attention.
Wheels and the trucks
The wheels consist of 60*45mm PU 78A quality and 3.25' heavy-duty aluminum V truck and base which is quite strong. Therefore, you can rely on the skateboard as far as it is trucks and wheels, with the inclusion of the ABEC7 bearings and the PU cushion.
Overall specifics
A maximum load of 200 pounds is mentioned, but as mentioned with almost every skateboard it depends. Skateboard comes with plenty of designs and colors. This must be one of the skateboards that have many colors and design options in the market right now. Meketec features and the stand-out appearance makes it a quick consideration in these best skateboards for kids list.
Beleev Skateboards | Best Skateboards for Kids
Complete skateboards arrive fully assembled and ready to ride right away. The 31-inch length and 8.0-inch traditional width will make the kids groove to a professional board, with plenty of room for your feet on top of the deck. It's easy to ride, maintain, and move, weighing only 4.7 pounds. For some kids, this may be a little bit hard in starting to control too, but once you complete a few rides with confidence this will be easy to maneuver.
Deck Specifics
The board is built with 7 layers of Canadian maple wood and is 10 mm thick, making it tough and sturdy enough to handle a significant load of body mass. The symmetric concave design of the double kick allows dynamic movement and stability, making braking easier. The waterproof emery non-slip grip tape provides exceptional traction between your shoes and the board for a safe riding experience. Maintain a smooth ride that is well-balanced and controlled. It also has great grips that are resistant to being scraped or ripped off.
Wheels and the trucks
The cruiser skateboard is equipped with 55mm 95A high-rebound polyurethane wheels, high-speed ABEC-7 precise bearings, and excellent shock absorption, making it ideal for absorbing all those street bumps and sidewalk cracks while providing a smooth ride.
Overall specifics
The graphic of the skateboard is unique and has several different versions. With most of the positive ratings, the skateboard itself is durable and is recommended to any age. Beleev skateboard does contain durability features and comes with a budget price tag. If the skateboard features decent quality durability features with a good price tag, it's certainly with considering for purchase in the best skateboards for kids criteria.
Merkapa 22″ Complete Skateboard
With an eye-catching detail with an attractive design deck, the Mekrapa is certainly to be considered as a top choice for the best skateboards for kids review. Merkapa is one of those skateboards that are best for both kids and any age beginner. This skateboard has a wide range of colors and designs and is also strong and durable, therefore the skateboard itself has received a good rating on its deck and as well as its wheelbase. One of the highlighted features is the multi-colored decks and the lighting at dark in its wheels. The Merkapa skateboard is colorful and delivers good balance and durability.
Deck Specifics
This skateboard has a width of 6 inches and a plastic deck. The deck is 22 inches in length slightly shorter and with a round smooth edge. As we are not big fans of plastic deck skateboards, yet this is a great kid and beginner skateboard. The end of the deck features a rather slightly more lifted shape for the kick than the traditional skateboards, this may come in handy at times but also may result in unproportionable weight balance, but it's rarely the case. 
Wheels and the trucks
The best thing about this skateboard is the wheels the rotary-powered lighting to the wheels adds a little funkiness to the ride. As this is rotary powered you don't have to worry about battery/charging etc. 60x45mm PU wheels with 78A durometer hardness much like most skateboards the wheels are of good quality and only the lighting factor is what stands out.
The heavy-duty V-trucks and base 3.25″ are strong since the overall built quality is strong with a plastic deck and the strong trucks the skateboard may be the most flexible board you were hoping for.
Overall specifics
The graphic of the skateboard is unique and has several different versions. The lighting wheels and the color range that is available to buy in this skateboard will be the most preferred skateboard in style. With most of the positive ratings, the skateboard itself is durable and is recommended to any age.
Why Skateboarding for Kids
Before considering your purchase of the best skateboards for kids, take a minute and read the advantages and guidance to skateboarding for kids. Developing your muscles in age is a preferred activity daily. The reason why skateboarding become prominent is that to control skateboard the body should use a wide variety of muscles from legs to hands.
The balance and the control are achieved by these movements of limbs and the muscles in combination become strong. It is not an easy activity to master as it requires a lot of coordination through the body. Your kid will benefit from starting skateboarding and with time getting good muscle coordination across his or her body.
Also skateboarding acts as a stress relief activity for kids and to learn the practice of quick decision making. Skateboarding does make a great leg and eye coordination where it requires to steer, stop and do tricks on rails, etc. Also as an outdoor activity skateboarding makes a great platform for kids to learn how to stand up from failure and never give up attitude. As mentioned it is an art that is hard to master and requires hours, days, and months o training to become good at it.
What is the Best Age to Start Skateboarding
Although there is no hard pass rule for this question, the American Academy of Pediatrics has suggested that children under 5 should not skateboard as there is a tendency that the child may not be able to bear the falls, and the risk of fracturing bones is high. However, this is also countered by better practice and guidance from parents or professionals. It is also strictly recommended that every skateboarding session of kids should be monitored by parents or the respective trainers for their safety.
What should be considered when purchasing a Skateboard
There's not a lot of consideration that is required when purchasing a skateboard for a kid compared to a professional. But if you are hoping to buy a skateboard for a kid as part of a professional career then consider these options as well. The best skateboards for kids can be considered by the deck, bearings, and wheels accompanied by the spare parts that are available.
Even the best of the best skateboards will suffer damage on certain occasions, therefore it is better to research the spares that can be available before considering a skateboard purchase. However, since the above list of best skateboards for kids is mainly for the kids to start at a beginner level there should be no worries in terms of hunting for spare parts.