Here we feature a list of skateboards that you can choose to be the best skateboard for beginners. With the thrill of speed with the simplest style of skill, skateboards are known to awake the inner child in you.
Most people choose skating for fun, some choose skating as one of life's memorable experiences. It is a form of relaxation combined with a simple workout but with the added expertise, precision, and determination it can turn you into a professional skater. Let, jump into the start of your skate experience.
Best skateboard for beginners
White Fang Skateboard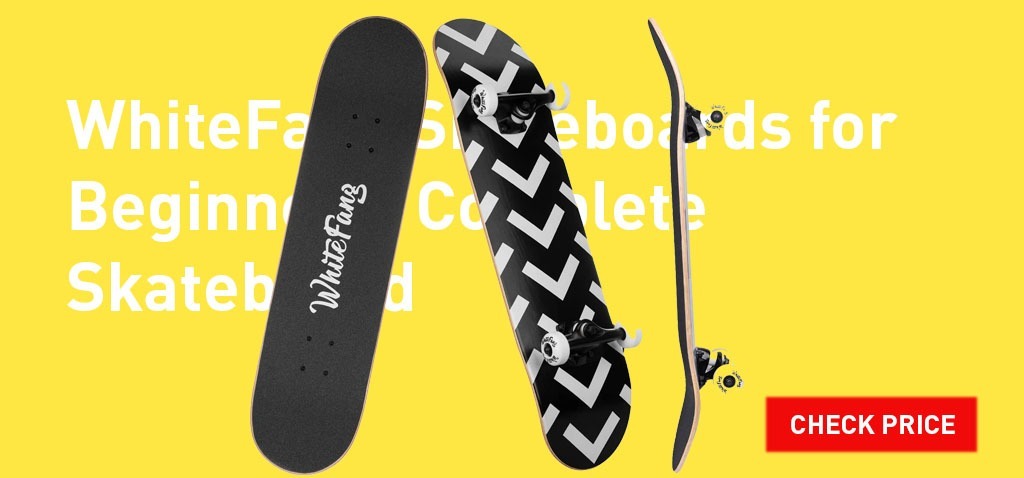 If you are a looking for beginner skateboard and are cautious in trying skating, we recommend the White Fang Skateboard. It is versatile and has a pretty good build to try out the skating world.
The skateboard consists of 7 layers of Canadian maple deck, it assists in withstanding any impact, and if the beginner tries a few tricks on the skateboard. The wheel unit consists of 95A durometer hardness, polyurethane wheels (52 millimeters) attached with ABEC9 bearings to give the skater more flexibility and shock absorbance. The wheels are known to produce high
It recommends a weight of 330lbs, however, we would recommend a maximum of 220 lbs. The skateboard is waterproof and with heat transfer pattern design. The design itself will keep its composure for a long time and you can purchase the skateboard with a variety of design options.
The wheelbase is gripped tightly to the base from bearings 95A high rebound PU bushing. The design of the skateboard is minimalist with the emery grip tape that provides a non-slip surface on top.
| | |
| --- | --- |
| Pros | Cons |
| A next-to perfect grip | Not suited for professionals |
| Medium Concave | May not support the recommended weight |
| Simplistic Design | White wheels get dirty quickly. |
| No Assembly Required | |
Playshion Complete Skateboard for Kids and Beginners
Playshion is a skateboard that is best for all kinds and adults who are just trying out skating. It is 31 inches long and consists of 8ply of maple wood. The deck is also 8 inches in width so that you have a good balance and an ideal size for the young riders. The deck is covered with a full grip tape that holds you in place.
The wheel unit consists of 95A durometer hardness, polyurethane wheels (52 millimeters) attached with ABEC9 bearings to give the skater more flexibility and shock absorbance. The 95A PU bushings and 5" aluminum trucks.
The skateboard consists of waterproof ability and comes with a tool to assist you to loosen and tighten trucks to obtain the necessary riding style. The skateboard is straightaway ready to go out of the box. No assembly is required. The load capacity is a maximum of 220 pounds, but we do not recommend going to that upper level of capacity. Especially the skateboard is directly for kids and the adults who are starting out. It also comes with a bunch of different designs and you can choose a range that suits your personal style the most.
| | |
| --- | --- |
| Pros | Cons |
| Perfect fit for a beginner | The wheels could be better |
| Medium Concave | Not for the medium or pro riders |
| Attractive Design | Not for hardcore use. |
| No Assembly Required | |
| A great grip | |
Merkapa 22" Complete Skateboard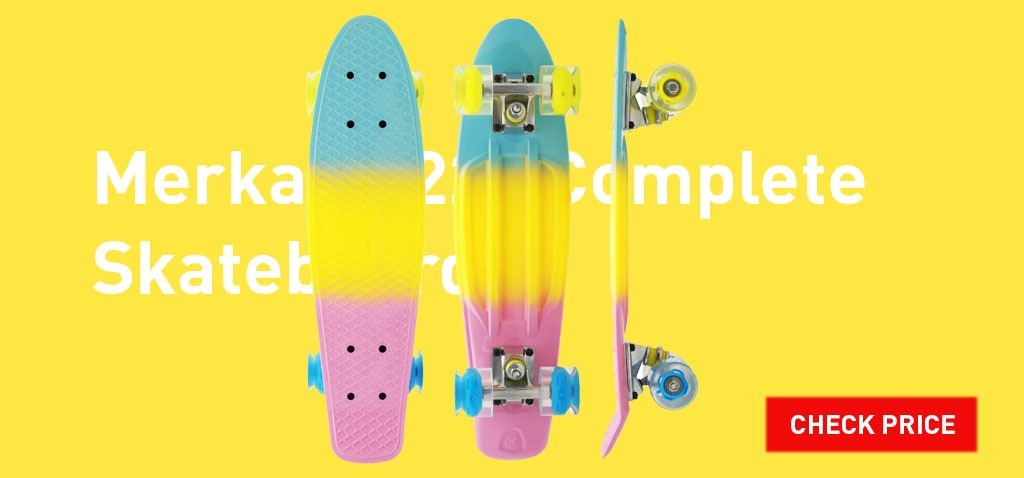 Want more style? Then the Merkapa is the choice for you. It's all about colors and attraction for the skateboard. Merkapa is a skateboard designed with led lights in the wheels which requires no batteries or charge and will light up as you ride.
22" Long x 6" Wide with sturdy PP skateboard deck, the edge of deck smooth that won't hurt you even if a slip and the cute size is convenient that you can put it into a bag and take it anywhere
The deck of the Merkapa is 22" long x 6" wide. The edges of the deck are unique in design which may also be too thin at times. But the skateboard is a great option for a beginner of any age but under 180lbs. We do not recommend trying if you are at the maximum limit capacity.
The aluminum trucks (3.2inch) are in good build quality, and durable 60x45mm 78A PU wheels equipped with ABEC 7 bearing bring good shock absorption and stability. The bright LEDs add a little glamour to the ride, that's why it is mostly loved by girls.
| | |
| --- | --- |
| Pros | Cons |
| Great Design | Surface area less for beginners |
| Once used to; Easy to navigate | Truck problems may occur rarely |
| No Assembly Required | Not for pro riders. |
Minority 32-inch Maple Skateboard
As the list progresses we now include more serious yet simple skateboards that will shape you up to professional and also perform awesome tricks constantly with it. The minority 32-inch maple skateboard consists of 7ply rugged maple cold pressed to the deck.
With a support weight of 220lbs, the Minority skateboard is ideal for any user beginner/pro. A medium concave design allows performing smooth tricks easily and with stability.
Cast by genuine aluminum alloy the 5-inch trucks are durable in any condition. The 78A PU bushing gives exceptional shock absorption qualities and stays in place with a carbon steel kingpin. The speed is the element of tricks and that's why Minority is a leading contender in the game. ABEC-9 precision bearings are forged by chrome steel, works with 52mm 102A PU wheels.
If you are not new at this and want to spend slightly more then choose Minority as this is the smoothest a board can get in terms of performance. Comes with a range of graphics that suits your style.
| | |
| --- | --- |
| Pros | Cons |
| Perfect for Tricks | Need to use carefully as the impact will take excessive damage |
| Recommended for Pros | Wheels get dirty quicker |
| No Assembly Required | |
| Speed up easily | |
KPC Pro Skateboard Complete
Manufacturing high-quality skateboards since 1996 KPC is a leading skateboard company that produces high-quality skateboards for pros for an affordable price.
Having the common dimension of 8.0" x 32" in the skateboard is mostly recommended for a pro skateboard. The Canadian maple construction complies with a 7.75-inch deck which gives good turning with much less effort and the concave structure supports the beginners and pro skaters to achieve a good balance in the air
The model is equipped with 52mm 99A high-rebound PU wheels and 5.0 aluminum bearings alongside precise speed ABEC7 bearings with highly ductile Philips head mounting hardware. Also and 80 grit black grip tape on the top deck.
Having generic simplistic graphics may not be ideal, but the skateboard is a well-made and durable piece. The skateboard itself is recommended for pros as well as rookies. The bearing may seem slow so a quick upgrade if possible will make this board great.
| | |
| --- | --- |
| Pros | Cons |
| Recommend for Rookies and Pros | Tricks might be limited (before bearing replace) |
| Good general build quality | Costs for upgrade |
| No Assembly Required | Limited Graphics |
Element Skateboard – Best Skateboard for Beginners
Moving on to one of the branded skateboards on the market, the Element skateboard. This skateboard is fairly made for the professionals out there and we are including this just so that if you are inspired by skating and you hope to be a professional this skateboard might be the best option for you.
This deck is built using the Featherlight construction, which as mentioned involves thinned wood veneers pressed on with special glue for lightweight, stability, and strength.
The Skateboard is equipped with durable element trucks and 60mm 78A wheels that are suitable for any terrain. The board originally mentions 8″x32″ but comes with 7.5″ originally. The wheels and the trucks are highly durable and raw polished with strong ABEC5 suspension bearings.
The graphics are limited, but the most recognizable graphic is it containing the brand itself. Element skateboards are highly recommended as they are one of the rare brands that specialize in skateboards.
| | |
| --- | --- |
| Pros | Cons |
| Built for Pros | Bearing are strong but can be replaced with new |
| Trusted Brand | Costs for upgrade |
| No Assembly Required | Limited Graphics |
Powell Golden Dragon Flying Dragon Complete Skateboard
Featuring another branded skateboard that fits for the future as a skateboard professional is the Powell Peralta series. These skateboards are made for beginners who have the skill to be professional skaters. The Powell Golden Dragon complete skateboard is one of the best skateboards for beginners.
Keeping the cool graphical style aside. the skateboard features a deck width of 7.63 inches and a length of 31.63 inches. With high rebound hand-cast polyurethane wheels, you can expect a good roll and speed. The deck itself is known for the build quality with Airlam presses and maple veneer sources. The skateboard offers a K12 concave.
The skateboard is originally built in China for demanding specifications which ultimately go through systematic checks. The wheel diameter is 54mm and has a width of 37mm. The trucks are highly durable and the hinges are perfectly in place. The skateboard is suited for beginners and professionals at any age.
| | |
| --- | --- |
| Pros | Cons |
| Built for Pros | Wheels may need replacing depending on the use. |
| Trusted Brand | Rigid Trucks |
| No Assembly Required | |
| Pre-tested | |
| Good graphics with high quality | |
Alien Workshop – Complete Skateboards
Jumping to the golden league of the brands the Alien workshop stand-out. The trusted skateboard for beginners who are dreaming of professional skating should look no further. Since 1990 the Alien workshop has been in operation manufacturing tons of brilliant skateboards over the years. Based in Dayton, Ohio the Alien workshop skateboards are trusted and reliable for their performance.
Alien workshop complete skateboard deck comes with 7ply Canadian hard-rock maple deck with 7.75 X 31.625 inches dimensions. Alien workshop branded trucks with 85A bushings, ABEC7 bearings, and 53mm 99A wheels. With tons of graphic options and the featured one is the Matrix Blue. Near-perfect black grip material is placed on top of the deck which brings speed and agility into play.
The skateboard is swift in turns and is with ease when performing tricks. If you run into a problem tons of accessories are available to fix from AWS.
| | |
| --- | --- |
| Pros | Cons |
| Built for Pros | Limited Graphic Styles |
| Trusted Brand | |
| No Assembly Required | |
| Pre-tested | |
| Good graphics with high quality | |
| Replaceable Accessories | |
PHOEROS Standard Skateboards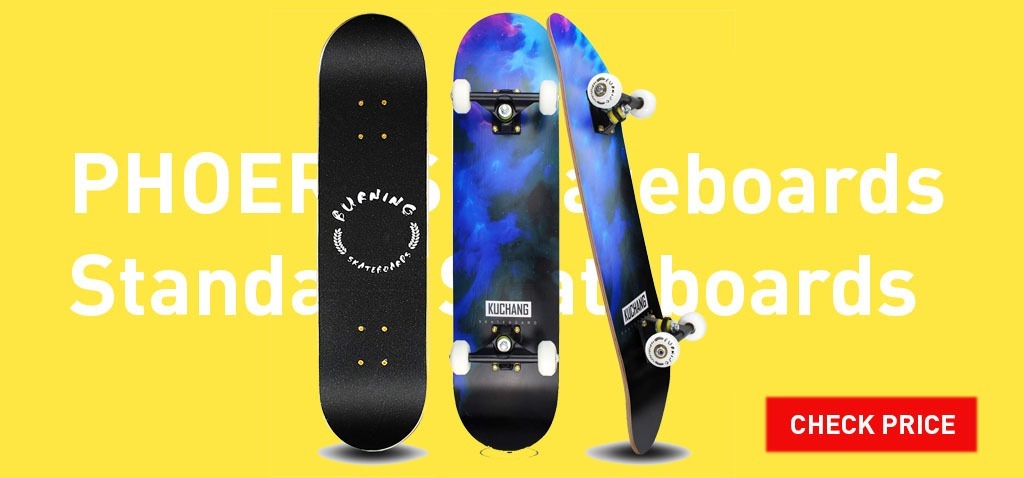 Dialing it down again for a much affordable and preferred skateboard recently. The Phoeros skateboard has made a name for itself. If you are looking to buy a skateboard for an entry-level kid or if you are one then this is the best skateboard that you should consider.
With a 7ply Canadian maple deck and the dimensions of 31'L x 8'W x 4'H, the skateboard is a fair skateboard that you should consider for a beginner. Recommended max load of 220lbs and this is fair if you are not trying out any professional tricks with the board. The skateboard is also recommended for adults; but we recommend that you are a beginner-level person and are curious about the skateboarding hype, give this board prominence. But if you are a person of passion and want to pursue skateboarding as an art in life maybe go for a brand that is trusted.
The wheelbase consists of 95A 53mm high rebound PU wheels. One factor that stands out is the inclusion of ABEC11 bearings which are much strong and more durable under tough conditions. The thick aluminum trucks are strong and support the balance with stability.
| | |
| --- | --- |
| Pros | Cons |
| ABEC11 bearings | Not suitable for pros |
| Suited for Beginners | Limited tricks |
| Affordable and good value for the money | |
These are some of the skateboards that are highlighted and are within the budget for any beginner to try skateboarding. The list features mostly the skateboards that are more suitable for you to be familiar with skateboarding rather than to be a professional in it. On to the latter, you can find brands that are more suitable to beginners who are starting out and are fond of being professional at the sport. These skateboards are specially made for certain durability and are expensive in price. Hopefully, these are recommendations for the best skateboard for beginners.